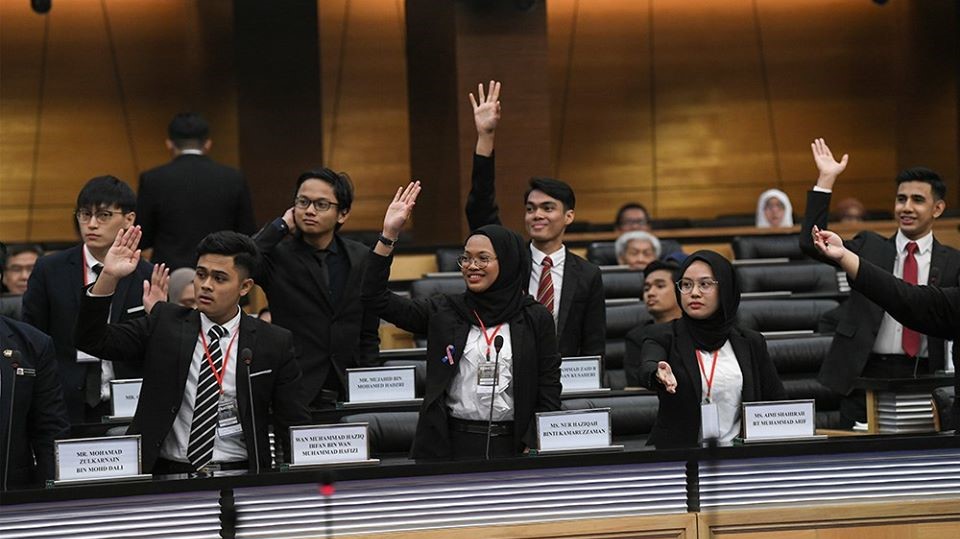 Students take over Parliament, speaker says they debate better than MPs
Students assumed the government and opposition benches in the Dewan Rakyat last night and debated before speaker Mohamad Ariff Md Yusof.
Aged between 16 to 25, they argued on the motion 'Precariat workers in the gig economy' in the first series of the Parliamentary Debathon 2019 Youth about how best to protect the growing number of freelance and contract-based workers.
Commenting afterwards, Ariff said he was impressed by participants' succinct debating style and substantive arguments.
"Your standard was as good as what we see in the real Dewan Rakyat, maybe even better.
"This is because there were no caci maki (insults), even though several inappropriate words were used. This can be improved," he said to chuckles from the many young faces in the audience.
"Today you have proven your ability to speak in a succinct, concise and substantial manner without raising any prejudice or ill-feeling.
"There was a lot of wit as well," he added.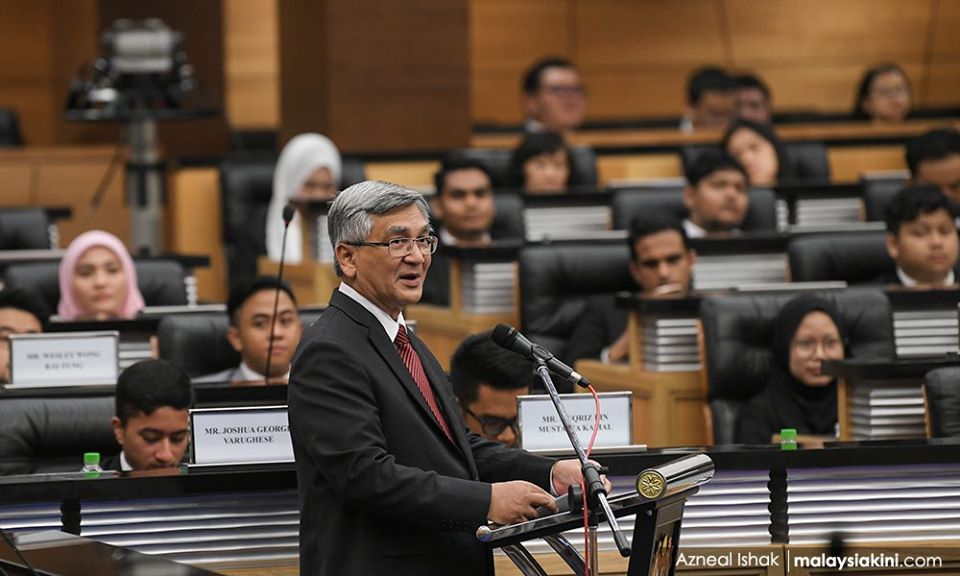 Ariff (photo) noted that he believes this signals the potential and calibre of youth in the country.
Empowering freelance workers
Earlier, the government bench had advocated law reform to grant freelance workers the same protections as full-time employees under the Employment Act 1955.
Led by Muhammad Asyraf Mustafa Kamaruddin, Nur Atiah Zakaria and Tan Chee Yong, they proposed that their "responsible and caring" government would not only provide social security for workers, but also help upskill them.
The enthusiastic opposition – led by Nur Azmina Aini Azman, Dusha Nanthakumar and Joshua George Varughese – questioned if the move would result in more regulations for freelance workers and thus more restrictions on the flexible gig economy.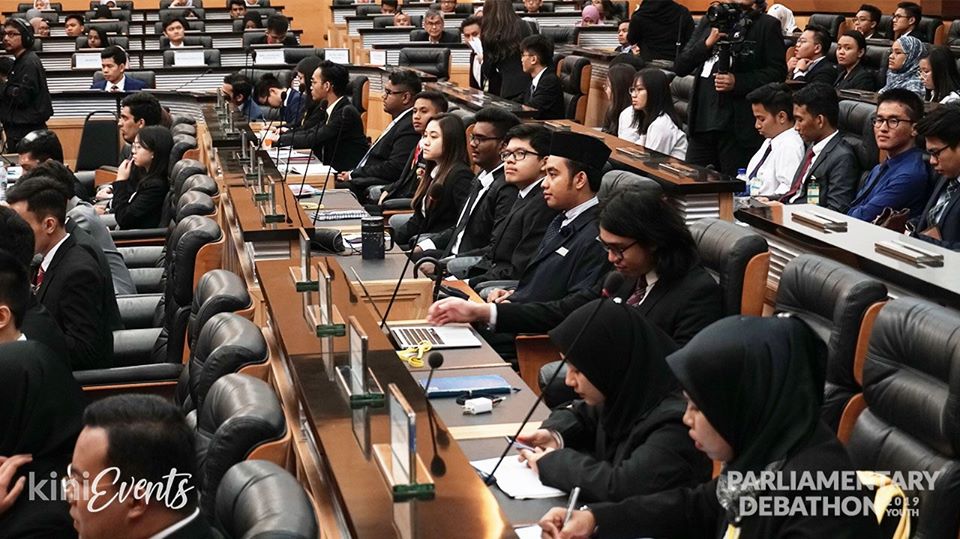 They also wondered if it was equitable for freelance workers to receive the same benefits as full-time employees when their working hours varied, and further needled the government bench on the cost of this initiative.
The opposition bench thus proposed a new law to cater to the distinct needs of freelance, or precariat, workers.
As in usual Dewan Rakyat sittings, debaters had to ask Ariff for permission to speak in English instead of Malay.
However, the high frequency of requests led the speaker to question, in jest, if any of the debaters knew how to use the national language.
The debates were often peppered with jibes not unheard of in usual parliamentary debates, with the government accusing the opposition of focusing on technicalities and failing to be constructive.
The opposition, meanwhile, insisted that their arguments showed they cared about the rakyat and it was the government that was missing the bigger picture with its law reform proposal.
Two more debates to go
Of the 46 debaters, Dusha (photo) was later awarded the best debater award through a public online poll.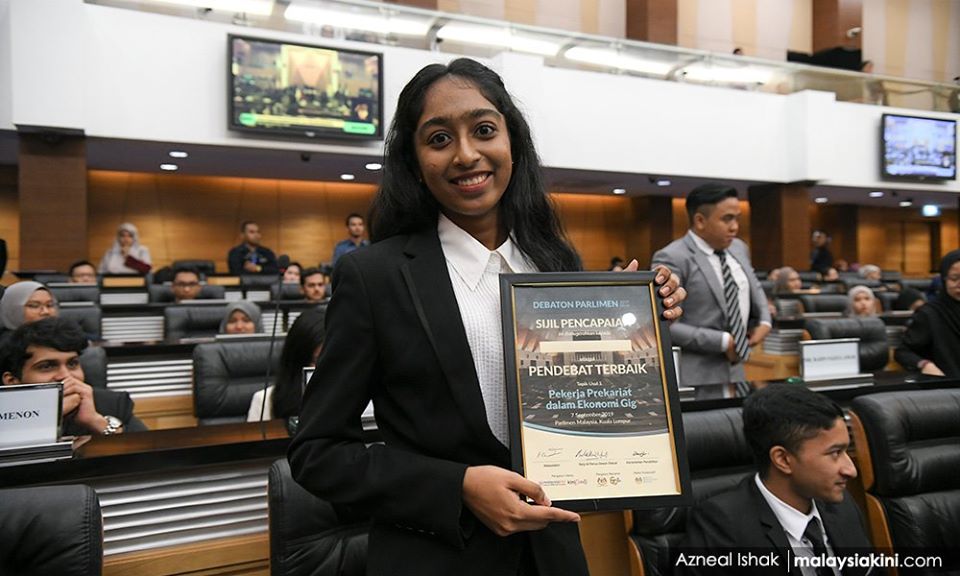 The 22-year-old Universiti Pendidikan Sultan Idris psychology major garnered 1,257 votes and received a lifetime subscription to Malaysiakini.
The night's youngest participant was 16-year-old Muhammad Nazaruddin Mohd Salleh.
The Form Four student from Sekolah Berasrama Penuh Integrasi Gombak was part of the government bench.
Organised by Malaysiakini's events arm KiniEvents, last night's debate was held in conjunction with its 20th anniversary and the Parliament's 60th anniversary.
Other organising partners include the Education Ministry, Human Resources Ministry, Human Resources Development Fund, Skills Development Fund Corporation and the Malaysia Reform Initiative.
The next two Parliamentary Debathon events will see students argue on cybersecurity and data privacy (Oct 5 at Universiti Sains Malaysia) and restoring the position of Sabah and Sarawak (Oct 19 at Universiti Malaysia Sabah).
For further information about upcoming events, please visit parliamentdebate.com. Email enquires can be sent to [email protected].